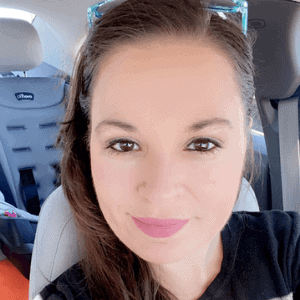 Storyline
Rise
Resumes
LinkedIn Profile
Camtasia
Q's about job postings
Storyboards
Design Docs
Needs Analysis
Interviewing
Badges
What job/career did you transition from?
Prior to becoming an Instructional Designer, I was in the field of Higher Education for 15 years.
I decided to join AIDA for accountability and pretty much needed someone to tell me exactly what to do. Google was great, but misleading in many ways. I was always reading about the same vagueness about why instructional design is great and some very generic steps to take, but never really learned
HOW to do it and WHAT actually needs to be done.
How did AIDA set you up for Success?
AIDA helped me overcome imposter syndrome and everyone gave me excellent feedback on the various work/samples I was creating such as design docs, storyboards, resume, interview questions, etc. I felt confident and prepared entering my first professional ID meeting/job.
What do you love about AIDA?
The one thing that I love about AIDA is that there is no sugar coating the realities of what I need to do to accomplish and reach my goals. Which is great. I don't want someone giving me false hope.I need the truth and constructive criticism to continue to grow in this field and learn as much as possible to be successful.
I also love the community, the support, willingness to help others; knowing that we're in this together and it's not a competition. Someone is always around to answer a question, regardless of the time of day. AIDA has given me some of the best friends who have turned into family and unconditional support throughout my transition into instructional design.
My current role now is Senior Instructional Designer (and developer) with Dashe and Thomson. I have begun taking on a larger role in the design process with consulting clients on learning solutions, conducting needs analysis if needed, leading a team of contracted IDs, etc. Also will develop vIL and eLearning when a project seems interesting.