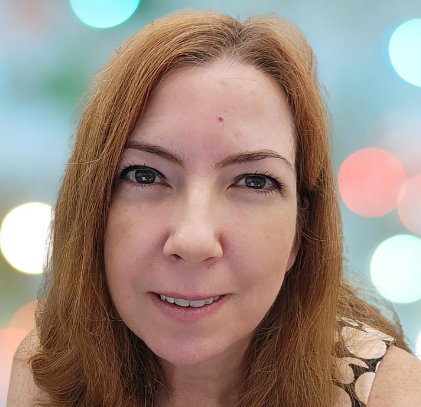 Jennifer Ozturkeri – Mentor
Storyline
Wellsaid Labs
Storyboards
Script Writing
Objectives
Career Transition after 50
Learner Assessment
Audio / Technical Matters
Camtasia
Job Aids
Needs Analysis
Photoshop
Software Simulations in Storyline
LMS
xAPI
Flowcharting
PowerPoint Design Tool
Image Editing
Storytelling
Scenarios (including Branching Scenarios)
What job/career did you transition from?
Before becoming a full-time Instructional Designer, I was a K-12 ESL teacher of 16 years. I taught all grade levels and adults.  I worked as a teacher and an administrator both abroad and in the U.S. Although I loved teaching, I needed a change. I enrolled in an Instructional Design certificate program at UMASS Boston. As I was going through the program, I discovered AIDA and at that point I pivoted. It has been one of the best decisions I've ever made.
As a member, I joined AIDA because I had great confidence in Jill. When I first joined Jill's online workshop, I knew she would get me where I wanted to go. She showed me the road to reach my goals in a quicker, more effective and less costly way. I was so sad to  graduate from the program, but happy to have my cohort and other alumni for continued support. Now, I am very happy to be back in AIDA as a mentor! It is a great honor to return to this community and give back in any way I can help.
How did AIDA set you up for Success?
AIDA created an environment that fostered growth and confidence by giving us the right tools, showing us the right resources and providing us with the right support system. I felt that I was not alone in this journey. Jill and our mentors were always there for help. The resources contained just the right amount of information that I needed. Nothing was overwhelming. Pretty soon everything began to fit into place. Having lots of examples to review gave me an understanding of what the expected standards are. All of these factors helped me achieve my career goals.
What do you love about AIDA?
I love the energy AIDA radiates. It gives you that push you need to advance forward. And some days you just need that. Nine months is a long time to stay focused and committed. If it wasn't for the support system in AIDA, where I found encouragement and assistance, I may not have been able to complete my portfolio, get my credentials and apply for a job in time. 
After graduating from the program, I was hired as an Instructional Designer by a global company called, Rapiscan Systems | American Science and Engineering. They manufacture big X-ray systems for cargo and vehicle inspection. I design and develop eLearning courses for the operators of these systems on topics such as Radiation Safety, Operations, Troubleshooting and Image Analysis. I love my job and like to believe that I contribute to the world safety.