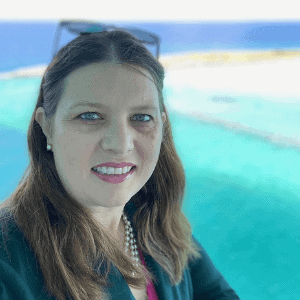 Sharon Stahrfisher – Mentor
RISE
Storyline
Wellsaid Labs
Interviewing
Zoom/Teams Skills
Audience Analysis
Accessibility
Learner Assessment
Communication
ILT/vILT
Scenarios (including
branching)
What job/career did you transition from?
I was a communication studies college professor (speech teacher among many other titles) for a major university.
Originally, it was because nothing else was working. I had paid for someone to redesign my resume and LinkedIn. I had submitted about 50 applications and hadn't gotten anything! I knew I could keep trying on my own, but I saw AIDA as a path toward finding ID work more successfully, and I did!
How did AIDA set you up for Success?
AIDA introduced me to everything I didn't know. I had thought my previous studies and work history prepared me for a job in the ID field. What I didn't know was everything else I needed to fill my knowledge gaps and AIDA gave me that.
What do you love about AIDA?
What I love most about AIDA is the connections you make with others on the same journey. I have so many people I now consider my friends that I met through AIDA. Also, when I am working and someone says, "do you know anyone good?" I have a plethora of options to present to them from my AIDA network.
Right now, I am working for a company on a team of ID designers using all my education, experience, and training all in one job.