Here's what to expect from this episode:
Job postings for corporate ID positions often include a laundry list of tools and software. As someone new to the field, it's hard to know which programs are essential. Reading the job descriptions can be overwhelming, and you may think you'll never be able to learn all of these programs. The good news is you don't have to!
In this episode, I'm going over the software programs you must learn to be hired as a corporate instructional designer or eLearning developer. I'll explain why job descriptions are often inaccurate, which tools are the most important to learn, and the supplementary programs that can make you more marketable.
Topics Covered:
How to read job descriptions and determine what's relevant
The two eLearning authoring tools you must learn as a corporate ID
The authoring tools you don't need to know and why grad schools still teach these programs
The video and graphics tools that will increase your marketability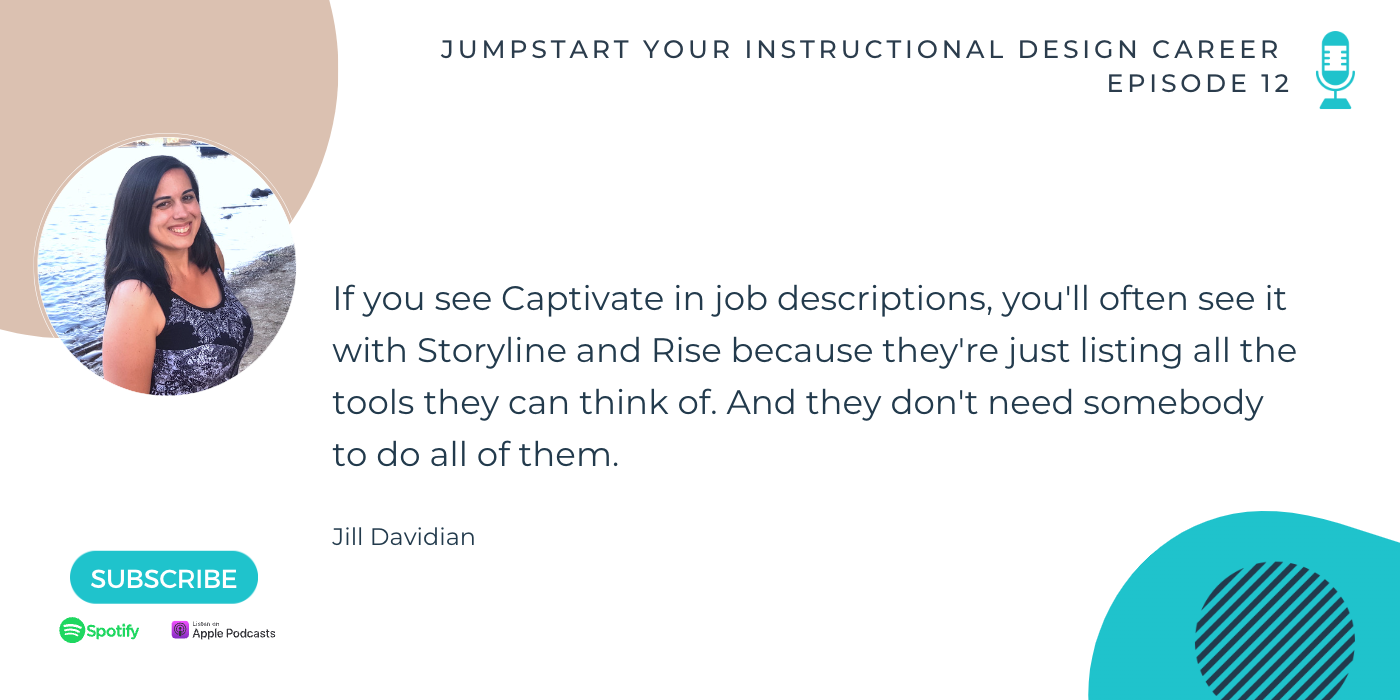 Now that you know which programs to focus on, are you ready to start learning? If you have any questions, join me in our Facebook group, and let's discuss.
Resources and Links Mentioned:
Sign up for the Applied Instructional Design Academy
Listen to my episode on The Different Types of Learning Delivery Methods
Connect with Jill:

Instagram
Website

Thanks for joining us on the Jumpstart Your Instructional Design Career podcast! If you enjoyed this episode, please leave us a rating and review on Apple and Spotify to help us reach even more freedom seekers and aspiring instructional designers.
More about Jumpstart Your Instructional Design Career Podcast
Thinking about becoming an Instructional Designer (ID) but have no idea how to get started? Instructional Design is a field that is high in demand, very flexible, highly lucrative, and provides you with a great work-life balance (say bye to being overworked and underpaid)!
Join Jill Davidian, 21-year corporate Instructional Design veteran and host of Jumpstart Your Instructional Design Career! Jill has worked in many different industries, including finance, health care, oil and gas, manufacturing, and even with the United Nations. She has helped over 500 new Instructional Designers launch their ID careers with corporate giants like Google and Amazon as well as smaller companies.
Each week she brings real talk, advice and inspiration, and interviews to help budding IDs stand out from the crowd and get that first job. Whether you are trying to figure out if Instructional Design is right for you or you are ready to create a portfolio and rework your resume, you are in the right place to jumpstart your Instructional Design career.