So, you're interested in becoming an Instructional Designer but don't know where to start? You may have heard about it from someone and aren't even sure what it is or how to break into it. This guide will answer all your questions about transitioning into Instructional Design, and even some questions you didn't know you had.
If you don't want to read through the whole guide and would rather jump to a section that interests you, you can do that below:
What is Corporate Instructional Design (ID)?
What Types of Organizations Hire IDs?
What Skills and Traits Do You Need to be Successful as an ID?
Full-Time Job vs. Contract Work?
What Types of Training Do You Create as an ID?
Would I Work Solo or Are You Part of a Team?
What Job Titles Will I See in the Field?
What are the Steps to Becoming an ID?
Should I Get a Master's Degree?
What Learning Paths / Certifications are Available?
---
What is Corporate Instructional Design (ID)?
Instructional Design is the systematic design and development of learning experiences that bridge gaps in skills or knowledge and ultimately create behavior change among learners.
Simply put, Instructional Designers are learning experts. We design and develop learning using theories, models, best practices, and processes that originate in research about how people learn best.
We are not content experts. If we are creating training for sales people at an organization, we do not have to be experts in sales. We will work with someone called a subject matter expert who is knowledgeable in sales, but doesn't know how to present it well to the audience that needs the training (i.e. new sales people.)
We are not trainers. We don't stand up in front of a room training people. We are behind the scenes, designing the learning experience.
What Sets IDs Apart? (The ID Difference)
You probably have experienced training that wasn't great and probably put you to sleep. We all have. In fact, when I tell people what ID is, they often say, "Oh, you are the one who creates those boring trainings." Actually, that's not the case. Those trainings are often created by subject matter experts who understand the topic really well, but have no idea how to present it to their learners in a way that is engaging and keeps their interest.
That's where we step in as IDs. We are like the translator or the liaison between that expert salesperson (the subject matter expert) and that new sales person (the learner) to make sure the training is presented at the right level for the learner.
Another example is a professor who is super smart and has published many books, but at the end of their lecture, the students are asleep. Just because he is really knowledgeable does not mean he is presenting in a way that 19-year old college students understand and care about.
When our learners don't engage or care about the training we have put in front of them, they don't learn. If they don't learn, they don't bridge the gap and behavior doesn't change after the training. They just go back to doing what they were doing before, or maybe doing it wrong. In some cases, like safety training, this could result in injuries or even loss or life if people aren't trained correctly. That's why what we do as IDs is so important.
What Types of Organizations Hire IDs?
Corporate / Government / Non-Profit – This is the most common type of Instructional Design that involves designing training for companies to train their employees. These companies could be large Fortune 500 companies or small organizations. The topics IDs design training for vary widely and cover job functions, compliance, systems, soft skills, policies, and procedures. Some examples:
New product lines that sales people will have to sell or customer service will have to field questions about
Leadership training for managers and above
Software training when a company implements a new system
New hire training for new employees
Compliance training such as cybersecurity, sexual harassment, etc.
Corporate training takes place in every organization in every industry including finance/banking, health care, oil and gas, cybersecurity, property management, hospitality, and many others.
On the government side, IDs are hired at all levels (federal, state, local) to create training for other government employees or for the public. On the non-profit side, organizations hire IDs to create internal training for employees or external training for donors and recipients of services.
Higher Ed – On the higher ed side, Instructional Designers usually help faculty move their courses online, update them, and help the faculty to incorporate new technology into their courses that help their students learn better. Higher Ed IDs are usually not creating training from scratch, although they may sometimes be asked to create a new course.
The processes and tools used in Corporate and Higher Ed ID are very different, because creating a 30 min training for employees is very different from a college course that lasts a semester or quarter. Learning is usually built inside the Learning Management System (LMS) directly (Canvas, Blackboard) vs. built separately and uploaded to an LMS like in corporate.
K-12 Education – There is an ID-adjacent field called Ed Tech that involves creating educational materials for schools, but you don't actually work for the school district. You work for a vendor that the school district buys learning materials from.
Again, because Ed Tech is education-based, the processes and tools used are very different than in Corporate.
DISCLAIMER: THE REST OF THIS PAGE WILL FOCUS ON CORPORATE / GOVERNMENT / NON-PROFIT INSTRUCTIONAL DESIGN.
Why Become a Corporate Instructional Designer?
Flexibility – In this field, many jobs are remote, although you can still work a hybrid role (partially remote) or fully on-site in an office if you wish. You can either work a full-time, 40 hour a week job or you can do contract work where you often set your own schedule (see more on that below.) Even working a 40 hour a week job, you usually don't have to clock in or out and still have the flexibility to run errands during the day if needed, as long as you make up the time and get your work done.
An in-demand field – The eLearning industry was a $250B industry in 2020 and is projected to climb to $1T in 2026. Every organization trains people. The one thing consistent with training and the need for IDs is change, and change never stops. Since the pandemic, there is a stronger need for online training, and that has to be done by IDs because of the very specific software tools needed.
Great salary – The average salary for brand new ID's with no experience is in the $70's per year. In Applied Instructional Design Academy, our graduates are usually on the higher end of that with an average salary of $78k. That often comes with a 5-15% annual bonus and benefits like health insurance, paid time off, retirement match, etc. In corporate, raises are much larger than they are if you are coming from education. If you don't need benefits or want to choose your own benefits and get them yourself, you can do contract work, which pays an average of $40-55 an hour starting out as an entry-level ID, and many quickly get up to $65 an hour within a few months. In Applied Instructional Design Academy, we see contract rates starting at around $50 an hour on average.
Work-life balance – This is a job where you get paid for what you work and shut your computer off at 5pm. You don't work weekends, and often your boss will have to tell you to stop working if you are working too much. You get more time to work on many projects than you need, not less. That's not to say there won't be deadlines and crunch times, but for the most part, you won't feel stressed or over-worked.
Is ID a Saturated Field?
There is such a huge demand for IDs right now and entry level IDs aren't competing for the same jobs as experienced IDs are. Many companies can't pay the extremely high rates that experienced IDs are charging, and many experienced IDs have fallen out of the market because they haven't kept up with their skills.
So, if you are transitioning into ID now, you are only competing with other newer IDs. It may seem like a lot of qualified people are applying for a job when you see 200 applicants on a job posting, but hiring managers say that most of those applicants don't have a portfolio and have done nothing to prepare for the transition to ID. If you follow the steps outlined in this guide and create a portfolio, you will stand out and will be a refreshing change for hiring managers who desperately need good IDs, even if they are new.
Also, it often seems like everyone is entering the field, because when we are focused on something, it is at the forefront of our everyday reality. It's like buying a red car and driving it off the lot – all of a sudden, all of the cars you see are red. Ask your friends and family that you have not discussed this career transition with if they have heard of ID and I bet the answer is no. It's still not a mainstream career, but yet, there is such a high demand for it.
What Skills and Traits Do You Need to be Successful as an ID?
Basic PowerPoint skills – There is no coding or anything super technical involved, but you do have to have basic tech skills.
A love of learning – You are building learning every day and every project is different as you will likely work in a variety of industries in your career so you will be learning about a lot of different things.
No specific background needed – Many educators are entering the field because ID is an educated-related field and they bring marketable skills, but anyone can learn ID no matter what their background is
Full-time Job vs. Contract Work?
One of the biggest benefits of working as an ID is the flexibility that it brings. You can work full-time or part-time as an employee or as a contractor/freelancer.
Full-Time W2 Employee – You can get hired as an ID to work in the training department for a company as an employee. This is a salaried job, usually 40 hours a week, with benefits like health insurance, retirement (401k) with match (they match the percentage you put in up to a cap), paid time off, sick leave, work from home stipends, etc. Some companies have one training department for the whole organization, whereas some have multiple training departments in various areas like HR, IT, sales, etc. You could be creating training for one specific department as needs arise or for the entire company. Sometimes there is one ID and sometimes there is a whole team, depending on the size of the organization.
Contract Work – You can also get hired as a contractor for a finite period of time, usually 3-12 months. This is often to complete a project that is temporary, and the company doesn't have the capacity to do it internally with their employees. Contractors typically work through third party agencies. These agencies can be recruiting firms that hire for different fields or they can be one of MANY agencies that specifically hire contractors for training/Instructional Design projects. The nice thing about the latter is that once you get in with these training agencies, they often have lots of projects with different clients to keep you busy. These projects can be full- or part-time hours. Full-time often guarantees 40 hours a week for the duration of the project, whereas part-time only pays for the hours you work. Many full-time contracts send you a computer with software to use for the duration of the contract. Some contracts are W2 in that you are an employee for the duration of the contract, and some are 1099 which means you are an independent contractor. You find these contracts on job sites like Indeed, GlassDoor, LinkedIn, etc.
Freelancing – Some people call contract work (above) freelancing because you aren't an employee, while others call freelancing getting your own contracts separate from a job site. For example, say you talk to the owner of a company at a networking event and they need someone to develop their onboarding training. You would sign a contract directly with that company rather than applying on a job site and going through a third party agency.
What Types of Training Do You Create as an ID?
There are many learning solutions you can design as an ID, but here are the most common:
eLearning – If you have ever taken an online training course that was completely asynchronous, meaning there was no live instructor, and you had to click through the screens to get to the end and get credit, that was eLearning. There is no instructor to drive the point home so the online module must carry all the weight, yet be engaging at the same time. Many times, people say, "Oh, that boring compliance training I had to take. You create those?" Compliance training isn't always the most fun thing to take but it is something that almost every organization has, so many people know about it, but what they don't know is that the boring training they are taking was often NOT created by an ID. That's why IDs are so badly needed. However, you get the idea. There is no instructor and eLearning is complete online. It's often connected to a Learning Management System (LMS) which tracks employees that have taken it. eLearning authoring tools like Articulate Storyline and Rise are used to create it.
Virtual Instructor-Led Training (vILT) – This is still 100% virtual / online but it is live with an instructor. Think Zoom training where everyone logs on at the same time and the instructor facilitates the session. eLearning authoring tools are not needed here as the instructor usually uses a PowerPoint or some presentation and has a Facilitator's Guide to follow along, mention key points, and facilitate virtual activities to keep the learners engaged. Instructional Designers do NOT facilitate these sessions. You would simply design the PowerPoint and Facilitator's Guide that the instructor would use.
Instructor-Led Training (ILT) – This is the same as vILT but in person. Think traditional classroom training but for adults, where everyone is in the same room as the instructor. This is not as common since the pandemic but it does come up sometimes.
Microlearning – Employees are busy these days, and companies are always looking for ways to create short learning experiences that promote behavior change or knowledge acquisition but don't require a lot of their time. This category is really any short (under ~5 minute) training that could be in the form of a video (using tools like Camtasia and Vyond) or a document (job aid, quick reference guide, cheat sheet.)
Blended learning – This is any combination of two or more of the above methods to create a comprehensive learning program. For example, if you were trying to train new customer service representatives, you may have some eLearning modules, followed up by some vILT to make sure they had face-time with an instructor to ask questions. They might also get a job aid to take back to their desks after the training. That would be blended learning.
Would I Work Solo or Are You Part of a Team?
The short answer is that it can be both.
For full-time jobs, you may work for a large organization where they have 10+ IDs or you may be the only ID on the team. You may work in a training department that designs training for the whole organization, or you may work in a specific department like HR, IT, engineering.
For contract work, you may be the only outside ID on a team of internal IDs or you may be the only ID they have hired to complete a project.
What Job Titles Will I See in the Field?
Instructional Designer – This position is very broad in that it usually encompasses the entire project lifecycle, from kick off meeting/analysis through design, development, and implementation/evaluation. Sometimes, an Instructional Designer only focuses on the analysis and design phases and turns the development over to an eLearning Developer (below.) That would mean that they take the source content and create learning objectives, a design document, and a storyboard organized in a way that makes sense for the intended audience.
eLearning Developer – This position mostly focuses on the development side of Instructional Design, meaning you are mostly working in the eLearning authoring tools (i.e. Articulate Storyline and Rise.) You are often handed a storyboard for a course that is already designed with clear learning objectives and you are bringing it to life, much like a home builder is handed a blueprint and then goes on to build the home.
Learning Experience Designer – This is a newer title that is often very similar to an Instructional Designer. Learning Experience Design puts the user, or learner, first and combines learning with the user experience. Well, guess what? So does Instructional Design.
Training Specialist – This one can mean a bunch of different things, so you really have to dig into the job description. It could mean you will be an Instructional Designer with a different title, or it could be a trainer where you are actually training people rather than designing training in the background.
Learning Management System (LMS) Administrator – This is the person who uploads all of the training modules to the LMS, tracks who takes them and who doesn't for compliance reasons, and runs reports. These duties are not Instructional Designer duties, but often Instructional Designers end up doing them if they work for a small company where people share multiple hats.
Trainer – This is someone who actually interacts with the learners and trains them either through Instructor-Led Training (in-person learning) or Virtual Instructor-Led Training (virtual synchronous learning.) eLearning doesn't have a trainer involved.
What are the Steps to Becoming an Instructional Designer?
There are 10 steps to becoming an Instructional Designer, with an optional 11th step. This is the exact path that will land you an Instructional Design job.
Get your mindset right for the transition
Learn the theories and how to apply them
Learn the corporate ID process (project lifecycle)
Learn the software tools required
Learn visual design, visual communication, and usability
Learn how to create design deliverables (design doc, storyboard)
Create your portfolio
Update your resume
Update your LinkedIn
Prep for your Instructional Design interview
Get Instructional Design experience (optional)
1. Get your mindset ready for the transition
Transitioning into a new career can often be scary because you are stepping into the unknown as the new kid on the block again. It's not like when you were just out of college and everyone expected you to be new. Learning new things as an adult isn't always easy. Often, the voices in our head, or outside of our head (i.e. other people) show up and deter us from our goals. This causes us to get imposter syndrome and lose momentum. This is because our brain wants to do what is comfortable and what it knows how to do, even if it's not the best path for us. Your brain knows what to expect with your current job so it will convince you that is the safe option. You know it's not or you wouldn't be here.
It's time to create new pathways in your brain and create a new normal.These little voices never fully go away, but you can start to recognize them so that you can squash them and not let them derail you. Keep this in mind as you begin this journey into Instructional Design.
2. Learn the theories and how to apply them
Adult Learning Theory (or Adult Learning Principles)
This set of principles, or theories, are the main ones that you will need to know and be able to apply to create learning that is engaging and ultimately changes learners' behavior. There are many other theories out there, but the ones most discussed and used are Adult Learning Principles. If you learn these and nothing else, you will be fine in this career. You can go down a rabbit hole of theory, but it's really not necessary. The key is learning how to apply adult learning principles to your work.
3. Learn the corporate ID process (project lifecycle)
The most popular model which spans the Instructional Design project lifecycle is the ADDIE model.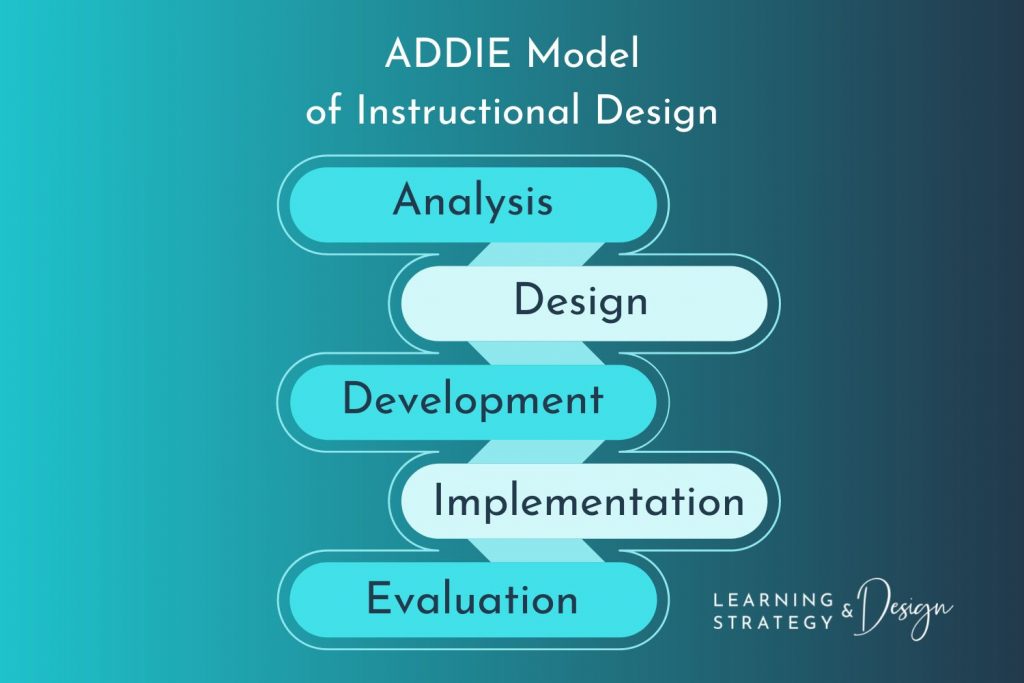 Analysis
This is where you identify all of the pieces to the puzzle before you get started. This can be a full blown analysis of the need or gap in performance, knowledge, or skill that need to be filled, and can be done through research, surveys, interviews with the learners, analysis of previous trainings around this topic, and conversations with the subject matter experts and stakeholders. Or, it can be one meeting (usually a kick off meeting) where you ask the stakeholders and subject matter experts questions to get the information you need to get started. This is where you will identify who your learners are and characteristics about them that are important, the ultimate goals and objectives of the stakeholders, and the gap in current state and desired state (how they are currently performing or what they currently know vs. where we want them to be).
Deliverables for this phase:
Needs analysis report (sometimes – most of the time this is not used)
Design
This is one of the two largest buckets in the Instructional Design process because it is where you will map out and design your learning solution, much like an architect creates a blueprint for a new house. You will decide on delivery method (eLearning, ILT, vILT, microlearning, etc.), seat time (length of time it will take for learner to complete training), flow of learning, level of learning (beginner, advanced, etc.) and interactions or activities to include to keep the learner engaged.
Deliverables for this phase:
Design Document (all learning solutions)
Storyboard (eLearning only)
Development
This is the second of the largest buckets in the Instructional Design process where you actually develop the learning solution you have designed. If eLearning, this is where you get into the eLearning authoring tool (i.e. Storyline or Rise) and design from the storyboard you created in the design step.
Deliverables for this phase:
Module or course developed in eLearning authoring tool (eLearning)
Facilitator's Guide (Instructor-Led Training or Virtual Instructor-Led Training)
PowerPoint (Instructor-Led Training or Virtual Instructor-Led Training)
Implementation
This is where your learning solution is rolled out to your learners. If eLearning, this is the step where it is uploaded to the Learning Management System (LMS) if there is one.
Evaluation
There are various levels of evaluation that take place at various points in the project. There is evaluation at the end of a training module or course to determine if the learners learned anything from the module immediately after they finish. This usually is in the form of a quiz or assessment asking them questions about what they learned. You can also follow up later when they are back on the job to assess how things are going, if learners implemented their learning, and if the ultimate goals of the learning were achieved. This is not done as often as it should be in the real world because many companies move on to the next project after implementation.
I like to use the ADDIE model to describe what we do as IDs, because it outlines the entire process and is a model that you will be expected to know. However, it's more academic in nature in that it doesn't show all the curves and turns that happen in real life, and it also gives equal weight to every phase, when design and development are the two biggest phases.
There is a model called SAM (Successive Approximation Model) that is ADDIE applied, meaning it takes ADDIE and depicts how it is actually used in real life.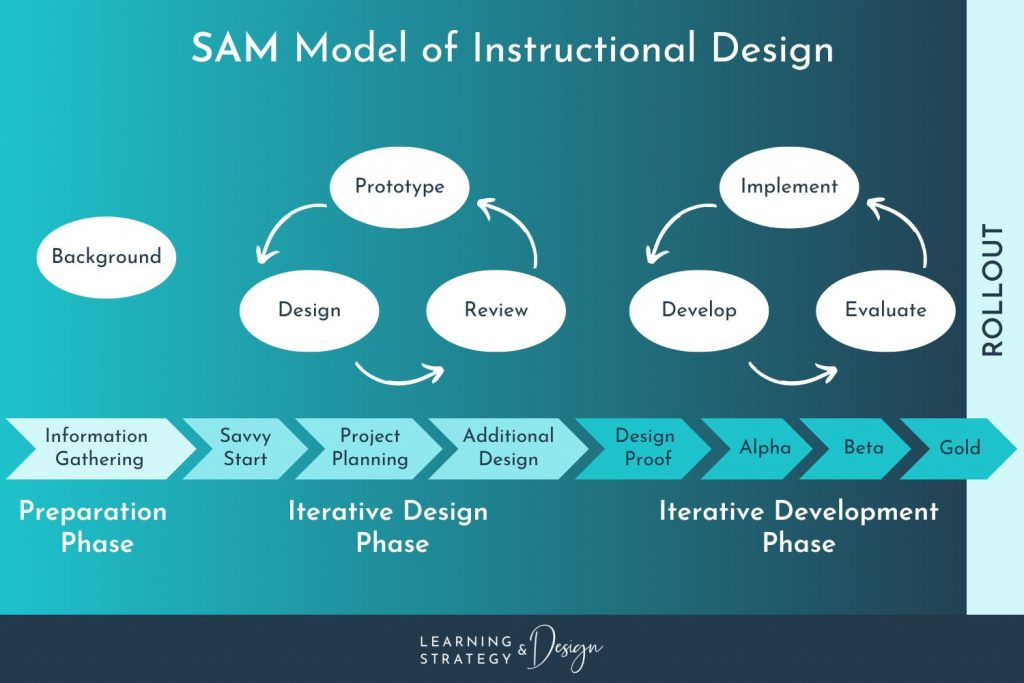 The differences are that SAM has what is called a "Savvy Start" which is generally a kick off meeting at the beginning of a project where you gather analysis details. A full blown analysis is often not conducted like it shows in ADDIE due to time and budget. The emphasis for this model is on the Design and Development phases, which mirrors real life. You also see that there is a lot of cyclical movement, as there is a lot of feedback and revision as part of this process, and it's not often linear. Evaluation is a smaller component that happens throughout, and implementation is a smaller component that happens at the end.
4. Learn the software tools required
When you look at ID job descriptions, there are often a million tools listed that they say you have to know. In most cases, you don't. Many of those job descriptions are created by HR staff that don't know the job, or they list all the tools they can think of as search terms in hopes that candidates know at least one or two. These are the tools that you MUST know as they are used the most in the field:
eLearning Authoring Tool – Articulate Storyline – The most commonly used tool in the field and is described as PowerPoint on steroids. It is slide-based like PowerPoint, and actually has a menu like PowerPoint, but with a lot of additional functionality. It doesn't require learning coding or anything like that, but it is a medium-level learning curve. Storyline works natively on Windows only, but you can run it on a Mac using a program like Bootcamp or Parallels, which simulate a Windows environment on your Mac. You can get a 30-day free trial to Articulate.
eLearning Authoring Tool – Articulate Rise – The second most commonly used tool and it is much easier to learn than Storyline. It is web-based so no need to download anything and it can be used on Windows or Mac. The courses created in Rise look more like web pages than slides as you can scroll down them, and the interactions that you include in your Rise courses are pre-made interactions. This means the functionality is more limited than Storyline, but it's easy to learn. Articulate offers a free 30-day trial that includes both Storyline and Rise.
Microlearning Tool – Camtasia – A video editing tool where you can create short instructional videos using real footage or to teach a software tool using screen capture.
Microlearning Tool – Vyond – An animation tool where you can create short, engaging, instructional videos.
5. Learn visual design, visual communication, and usability
So you have learned the tool (i.e. Articulate Storyline). You are ready to start applying for jobs, right? Not quite. Just because you know how to use the tool doesn't mean you know how to create GOOD eLearning with it. Think about writing an essay in Microsoft Word. In order to write the essay in Word, you need to know how to use Word, correct? But just because you know how to use Word does not mean the essay is engaging or that anyone wants to read it. Writing a solid essay is a different skill set. The same thing applies here. Creating GOOD eLearning is much more than learning the tool. You also have to learn visual design, visual communication, and usability.
Visual Design – You have to ensure that your eLearning modules are visually pleasing, with appropriate white space, color contrast, limited blocks of text, etc. The Non-Designer's Design Book by Robin Williams is a great book to learn visual design.
Visual Communication – This is different from visual design in that it's all about communicating a message visually on the screen since there is no instructor. This means using imagery, photos, graphs, etc. that are appropriate for the context and conveys a message vs. focusing on text.
Usability – You want to make sure that there are clear instructions when the learner has to click on something or complete an interaction and that the module is intuitively easy to navigate.
6. Learn how to create design deliverables (a design document and a storyboard)
Many people new to the field jump to learning how to create the end product (a completed course) and forget that Instructional Design is a systematic process where the design is planned out well before the end product is created. For eLearning, that design takes place in the form of a design document and storyboard. Download these templates and become familiar with them as you will need to know the difference and how to work with a subject matter expert to create them.
7. Create your portfolio
Now, it's time to create your portfolio. What is a portfolio? It is a compilation of items showcasing your work and what you can do in this field, so potential employers get a glimpse into what you can do for them. Many people worry that they cannot create a portfolio because they don't have any past work to show. That's ok because you usually couldn't use past work anyway as it is often proprietary. If you are in education, you do not want to include any education samples in your portfolio. You will be creating new, non-education-related samples, from scratch.
Think of it as a gift because in many fields you don't have the ability to showcase your work when you enter the field. They are taking a chance on you because they can't see what you can do. In ID, you have the gift of being able to showcase your work. Most new IDs entering the field don't have portfolios (per many hiring managers) so having a good one will set you apart from the pack.
Is a portfolio required? Absolutely. It will be extremely hard and almost impossible to get a job without one.
So what should be in it? There are 8 core things:
Two Articulate Storyline samples (15-25 slides each)

One corporate-facing topic (basically, anything someone working in a non-education-related field could use like ergonomics, customer service, communication, etc.)

One non-education hobby-related topic (or another corporate topic) like gardening, cooking a certain dish, wedding planning, caring for a certain type of dog, etc.
One-two Rise samples (same topic(s) as Storyline above)
One-two design documents
One-two storyboards
Video-Based Microlearning (i.e. Camtasia video, Vyond video)
Text/Graphic-Based Microlearning (i.e. job aid, infographic)
Virtual Instructor-Led Training PowerPoint or Google slide deck (with vILT activities included)
Virtual Instructor-Led Training Facilitator's Guide (in Microsoft Word or Google Docs)
If your portfolio is missing any of those things, especially #1-4, you are going to struggle getting a job. I will be honest. You probably won't get a job. They are all important, but having #1-4 is critical to entering this field.
Your portfolio should be housed on a basic website like Google Sites, Wix, Weebly, etc. Google Sites is free and the easiest to use. You do not have to design it like a web designer would, but it should look visually pleasing with readable text, colors that are cohesive, etc.
Check out example portfolios of newer Instructional Designers who have transitioned recently into ID from other fields.

8. Update your resume
Now it's time to update your resume to highlight what you have done in the past that relates to Instructional Design, using Instructional Design language. Check out the guide below for direction on how to translate your existing experience, as well as the key words used in the field.
9. Update your LinkedIn
Next, you will update your LinkedIn profile to match the new position you are seeking in Instructional Design. Make sure that you have a professional photo, an enticing and informative cover banner, an engaging and informative About section, and optimized bullet points for each job that highlight your related experience using Instructional Design language. Add a link to your portfolio in your About section.
10. Prep for your Instructional Design interviews
The last thing you will do is prep for your Instructional Design interviews that will be coming up next. Knowing the questions that they will ask and prepping examples for how you will answer them, using Instructional Design language, will give you more confidence. Confidence translates into a smoother interview, and they will see that even though you are new, you can still hit the ground running and perform well on the job. If you don't have confidence in yourself, they won't have confidence in you.
11. Get Instructional Design experience (optional)
You can do this in a couple of different ways. You can find non-profit organizations to volunteer with that need Instructional Designers or you can find a business owner that you know that may need to have some training developed. If you volunteer anywhere, you may ask them if you can help them develop some training for their staff or the audience they serve. This isn't necessary but it does help you gain experience working with a real client that you can add to your resume.
Should I get an ID Master's Degree?
This is a common question that comes up for those transitioning into Instructional Design, as it's often hard to decipher if a Master's is required. Some job descriptions will say that it is, but most either say it's preferred or they don't mention it at all.
A Master's degree is 90% theory and won't teach you practical application. There are very few programs where you will learn eLearning authoring tools, and if you do, you likely will learn Captivate because it's cheaper (but it's barely used in the field anymore.) You also will either create a portfolio with all of your school projects that will have to be redone to be corporate-focused or you won't create one at all. You won't get resume help and won't be prepared for interviews. What that means is that when you finish the program and start applying for jobs, companies are hesitant to hire you or even interview you because you don't have any practical skills and they don't want to train you on the job.
Many aren't even geared towards corporate ID at all, even when it comes to theory. They focus on higher ed, which is a totally different type of ID.
Most employers know that, and while they may say they prefer a Master's sometimes on job descriptions, they will always take someone with a good portfolio over a Master's degree. Employers want proof that you know how to do the job (even if you don't have actual experience) and can hit the ground running once hired, which is ONLY obtainable through creating a stand-out portfolio.
That being said, if they have two people who have equal skills, killer portfolios, and one has a Master's and one doesn't, the Master's will help you stand out. But having a Master's without a vetted, corporate-focused portfolio built outside of grad school won't get you a job.
If you choose to get your Master's in ID, just know that it doesn't end there. You will get your Master's AND have to continue learning and creating your portfolio using one of the paths identified below to actually get hired.
What are the Learning Paths / Certifications Available?
Do It Yourself (DIY) – One way to learn everything mentioned above is to do it yourself. This is doable but will involve a lot of googling and trying to piece things together, which will take a lot longer to get to your end goal of an ID job or contract. You will also have to seek out ways to get feedback on the samples you create for your portfolio from IDs and people in the L&D field to make sure that you are creating samples / a portfolio that will actually get you hired. Most times, the first versions of the samples you create are not the ones that should go in your portfolio. They take multiple rounds of revision and often 30-40 hours to become portfolio-ready. If you do decide to pursue the DIY method, LinkedIn Learning is a great place to start. Check out our Resources page for more resources to aid you in your transition.
Certificate program (through a university) – Another option is to do a certificate program through a university which is usually 4 classes. It's less time and money than a Master's but it gives you something that says that you have taken some ID classes if you would like to have that piece of paper. Similar to getting a Master's degree, it is all theory and won't have you do anything practical to prepare you for the field. You will be doing this option AND either #1 or #3.
Practical bootcamp or certificate / credential program (not through a university) – Another option is to enroll in a practical certificate / credential program or bootcamp that is not through a university. These programs are similar to coding bootcamps that you may see out there where you spend a concentrated period of time, usually a few months, learning new skills to transition into a new field. Some are step-by-step and comprehensive in that they support your full career transition through learning the skills and software tools needed, conquering mindset challenges, revamping your resume and LinkedIn, creating a stand-out portfolio, and helping you gain confidence in interviews. Other programs take a hybrid approach where they tackle certain components of your transition for a shorter period of time (8-12 weeks) and you then supplement the rest on your own. You can find the program that works best for your situation, but whichever you choose, getting a practical education in Instructional Design is going to accelerate you much quicker than a Master's degree. One example of this type of program is Applied Instructional Design Academy (AIDA). Check out Case Studies from people who have transitioned to ID through AIDA as well as Results from current and former students.
---
Grab your free Instructional Design career transition resources here.
---
Get the Roadmap For Your Instructional Design Career
FREE 5-Day Instructional Design Jumpstart Workshop
Transitioning to a new career can be overwhelming. So many resources and directions to take – how do you focus on what will get you hired?  
Join us for a free 5-day workshop live with a 20-year ID veteran where you will get the roadmap to transition into an Instructional Design career from any industry and learn what hiring managers are looking for in the REAL WORLD of Corporate ID.
Monday, November 6, 2023 – 6pm CST