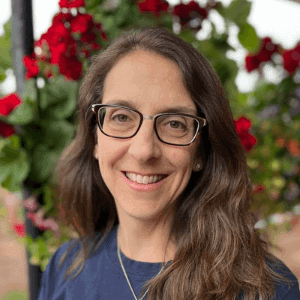 Storyline
Storyboards
Needs Analysis
Job Aids
Rise
Career Transition after 50
Zoom/Teams Skills
What job/career did you transition from?
I taught High School Chemistry and Biology for 22 years. I was ready for a change.
I joined AIDA because it is the best program out there to prepare you for a career in instructional design. I did my research and believed that this program offered the most support and direct access to mentors as well as a community to learn with.
How did AIDA set you up for Success?
AIDA was central to me learning everything about instructional design. I walked in knowing very little about the field! The team's detailed feedback and incredible support throughout my time in the program helped me gain the confidence I needed to apply for and ultimately get a job as a real-life instructional designer!
What do you love about AIDA?
I love the community. The friendships made here are ever-lasting. AIDA is THE safest place to learn something completely new – the feedback is genuine and constructive, and the support of the group makes it feel safe to step out of your comfort zone as you grow and learn.
I'm working as a full-time instructional designer for a company, creating trainings for Microsoft products. I am on a team of 5 IDs, three of which (including me) are AIDA grads. Most of the work is developing eLearning as well as job aids for on the job training.